Welcome to our site!
Our association started in 1995 as a chapter of the Ontario Woodlot Association. We have brought together people of similar interests dedicated to managing their woodlots in a sustainable manner. With various outings over the course of the year, we demonstrate these management options, in a hands-on manner.
Join us at one or both of our upcoming fall tours: Sept. 24th, and October 22nd, 2022. See details under 'Upcoming Events' and email hpwoodlot@gmail.com to register.  
See our August 2022 newsletter for details about these upcoming fall tours, the President's Message, updates from the Provincial OWA, and photos from our 2022 Annual General Meeting: H-P Woodlot August 2022
Here is a list of previous outings of the H-P Woodlot Association:
This year we held our AGM on April 22nd, 2022, which included a visit to McGavin's Sugarbush and Nostalgic Wood, followed by Guest Speaker John Pineau, a silent auction, door prices, and delicious luncheon.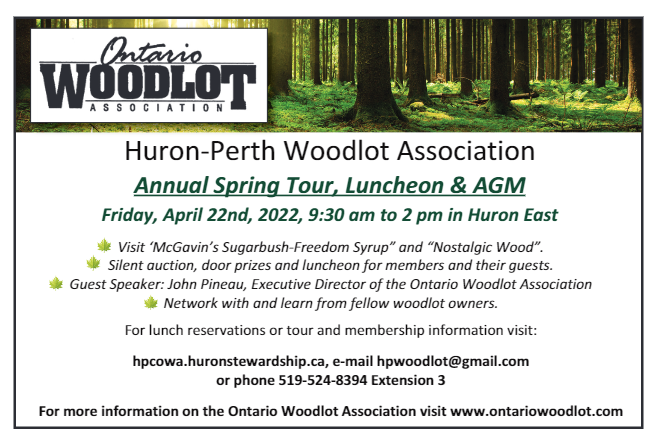 Saturday, October 26th, 2019 – Nick Whyte showed his efforts in rehabilitating a degraded woodlot to build a family maple syrup operation for enjoyment by multiple generations of the Whyte family. Click here to download the flyer.
Saturday, April 27th, 2019 – Annual General Meeting and tour of Pine Haven Sawmill and sheds. Click here to download the flyer.
Saturday November 3rd, 2018 – Paul and Debbie Kroes led a tour of their Christmas tree operation where they have 8 or 9 years of consecutive plantings of 2-3 acres each. Click here to download the flyer.
Saturday September 29th, 2018 – Tour of Peter Wiley's property near Bayfield, where Peter discussed various points of interest as well as other features such as vernal pools, etc. Click here to download the flyer.
Saturday, May 5, 2018 – Tour Paul Bollinger's property near Belgrave, where Paul demonstrated various aspects of managing hardwood areas, thinning and marketing products from young plantations, and reforestation of marginal land. Click here to download the flyer. 
Saturday, September 30, 2017 – Tour Ken Wagler's forested property west of Tavistock, as well as a demonstration of his Woodmizer sawmill and shingle mill attachment.  Click here to download the flyer.
Saturday April 8, 2017 – Tour of St. Helens Sawmill and St. Helens Pallet Mill (operated by Jake Stutzman), followed by a tour of Little John's Leatherworks.  Lunch and business meeting followed at St. Helens Community Hall. Click here to read an article about the event.
Saturday October 1, 2016 – Tour of the Trick family property south of Clinton to view their sawmill, hydro dam for power generation, old grist mill, firewood processor, and other points of interest.  Click here to read an article about the event.
Thursday June 9th, 2016 – Windbreak Twilight Tour profiling windbreak benefits, planning, establishment, and management. Planned for in the Exeter area.  Click here to learn more about the event.
Saturday April 9, 2016 – Annual General Meeting in St. Paul's Station (between St. Mary's and Stratford) at the Downie Optimist Club. There was a demonstration from Dan Bannon of Bannon Log Homes in the morning.  After the business meeting and lunch, the Canadian Raptor Conservancy did a live flying demonstration with birds of prey. This event was a good opportunity to renew your OWA membership!  Click here to learn more.
November 7, 2015 – Plantation thinning tour of a young coniferous plantation, led by John Enright of the Upper Thames River Conservation Authority.
October 17, 2015 – Tour of John and Janet Haak property near Clinton to view marginal farm land restoration, hardwood and softwood management, tallgrass prairie & wetland establishment, species diversity, etc. 
September 12th, 2015 – invasive plant tour with Brenda Gallagher at Wildwood Conservation Area, near Stratford.
April 11th, 2014 – tour of Bill & Anne Phelan's forest property near Bayfield, and a presentation from Brenda Gallagher (Upper Thames River Conservation Authority) on invasive species.
September 27th, 2014 –tour and displays at the Roger and Elaine Cook Farm near Stratford – woodlot, plantation, sawmill, wood crafts, etc.
November 15th, 2014 – joint woodlot conference with the local Maple Syrup Producers Association Chapter at Hoover Maple Products, near Atwood
And in 2013:
Annual Meeting in Bayfield, tour of Rick Kaptein's property (April 6)
Hike along the Maitland Trail (May 11)
Display at the International Plowing Match (Sept 17-21)
Tour of the St. Williams Forest Station and Backus Woods (October 19)
Chain saw training course
Tour of the Bauman Sawmill