Haak Property Tour
Saturday, October 17th, 2015
F0rty H-P Woodlot Association members ignored the winter weather warnings and attended a woodlot tour at John and Janet Haak's property on a chilly October morning.  Located near the Hullett Provincial Wildlife Area, the Haaks purchased the property in 1994, when much of it was in agriculture. Due to poorly drained soils the land wasn't very productive, and the Haaks decided to retire much of the marginal land into trees, ponds, and prairies.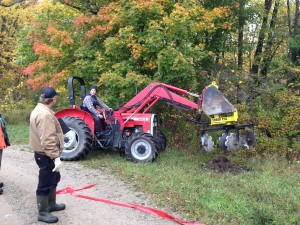 First off, we received a demonstration of a loader mount shred till from Gary Roth.  The shred till spot tills, shreds, and mixes soil in existing grasses and light brush to create a suitable tree planting site.  For more information, contact Gary (519 272-2283; elliceelectric@quadro.net), or check out the shred till YouTube video by clicking here.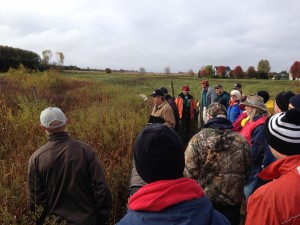 After decades of tree planting, today the Haak property contains 70 acres of forested land, 3 acres of tallgrass prairies, 6 ponds, and 17 acres of workable land.  John can't resist adding more trees every year, and on the tour he showed the group the extensive work he has done to manage the woodlot to produce the best saw logs possible, and to maintain high biodiversity of both plants and animals.
The last stop on the tour, John pointed out 4 trees of different species, and asked the crowd what tree they would keep if they had to remove three.  As to be expected, there were many different opinions about what would be 'the best' tree to keep.  The lesson to be learned was that even though there were 4 different answers to the question, all answers were correct!  The way your woodlot is managed depends on your own long term objectives, and there is not a single 'correct' way to do things.
Thank you John, for a very informative tour!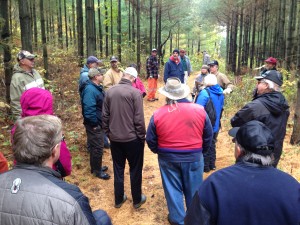 Location
40348 Summerhill Road (Summerhill Road is the 3rd road north of Clinton or 2nd road south of Londesborough on Highway #4 (London Road). Turn east on Summerhill Road and travel 2 km to the first intersection at Wildlife Line).
Parking
Turn north on Wildlife Line.  Parking will be at the end of the dead end road.
Agenda (tour starts at 9:30 a.m.)
We'll tour John and Janet Haak's property near Clinton and view marginal farm land restoration, hardwood and softwood management, tall grass prairie & wetland establishment, species diversity, etc. John has been particularly innovative in his management approaches and ability to access various assistance programs. John was named a Trees Ontario Green Leader in 2012 for his dedication to tree planting.
Our Woodlot Association Chapter visited this property in April 2005. It will be quite interesting to see tree growth and new projects that have been established and other changes in the ten years since our first visit.
Following the tour we'll have a hot dog barbeque and social time at the Haak's cabin. We'll ask for donations to cover the cost. Any surplus will go to the chapter.
Registration
Please contact John Haak by phone (519-482-3353) or email (janethaak@hotmail.com) if you are planning to attend so he knows how much food to buy. Everyone welcome.
Upcoming Huron Perth Woodlot Association Outings for 2015
We're still pursuing the possibility of touring a mechanized plantation thinning operation. We're not certain when or where this might be. If arranged, it will likely be on short notice.
November 21, 2015 – Strategic Planning Workshop for the Ontario Woodlot Association. Our provincial organization is hosting a series of four strategic planning workshops to help set future direction and ensure sustainability of the Ontario Woodlot Association. The final and closest workshop is November 21st in the Brantford area. No further details are currently available. We assume more information will be posted on the provincial web site as it becomes available.